About:

.

Hello! my name is Dareen Almojil. I am a biologist specialised in the field of molecular ecology and evolution. My current work focuses on the development and use of genetic markers to answer questions related to population connectivity, local adaptations, and reproductive behaviour, that aim to serve the conversation of endangered species. Recently, I am gaining more interest in adopting evolutionary insights to understand medicine. I am interested in working on questions that will contribute towards understanding; why a disease exist? why natural selection has not made the body more resistance to disease? and how environmental interactions contribute to the state of a disease?

(e.g. inability of our biology to keep pace with cultural change).

I believe that all scientific fields are connected and I am always keen in using different tools of science that might offer a new approach and insight in explaining my research questions.

​
---
| | |
| --- | --- |
| Expanding interest | During my PhD work I realised that a real understanding of biology can only be reached by integrating concepts from physics and chemistry. Other than that, any explanations will be a product of a single perspective. Therefore, I am currently working on solidifying my background in physics and chemistry to pave my way towards adopting a wider vision in answering my future biological questions. |
Powered by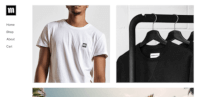 Create your own unique website with customizable templates.